"My daughter said she really enjoyed herself at Camp Bluestem this year! She loved the staff and the girls and looks forward to participating again next year."
—ECO Girl Parent
"Kudos to all, my daughter had a BLAST!"
—ECO Girl Parent
"Thank you for all of your hard work planning this camp. My daughter said this is the best camp ever. She would like to join the camp next year, too!"
—ECO Girl Parent
Camp Bluestem
Through actions both large and small, girls, and the women they will become, have the power to care for the earth and strengthen our human communities. See what members of the ECO Girls have been doing to make a difference, and read about ways that we can all contribute toward building a positive future with and on the earth.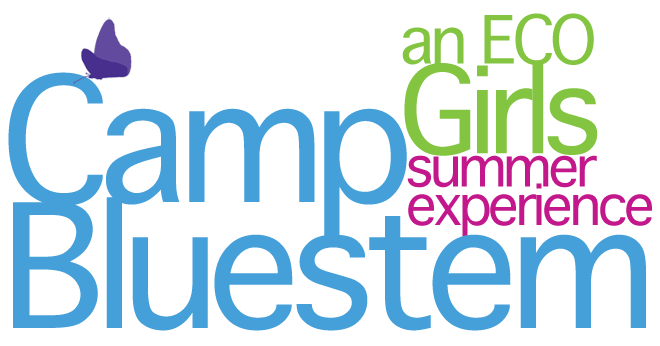 Camp Bluestem 2014 Notice
Greetings and thank you for your continued support of ECO Girls and Camp Bluestem.
We are sorry to inform you that ECO Girls will not be hosting Camp Bluestem in June of 2014 due to funding constrains and the relocation of key staff members. Camp Director Zakiyah Sayyed is currently doing research in Pietermaritzburg, South Africa and Faculty Director Tiya Miles is taking an academic leave to study environmental history. We will miss all of our wonderful Eco Girls this June. Campers, we wish you a fun and educational summer!
There are other great summer camps hosted by U of M that we want to make ECO Girls parents aware of. Please explore the possibilities in the attached list, and stay tuned for future notices about ECO Girls events.
Undergraduate students in the Department of Women's Studies created a first aid guide for Camp Bluestem campers and counselors. We would like to share the work of these students here, but wish to remind you to seek out a physician for medical advice. Read the first aid guide here.
Read ECO Girls First Aid Guide Now
We'd like to thank the following sponsors and community partners for supporting Camp Bluestem 2013:
Lesley Science & Nature Center
We'd also Like to thank the University of Michigan Center for Educational Outreach for providing scholarships for our program.
Would you like to donate to Camp Bluestem or ECO Girls in the future? Donate here.
Click to view a larger version.