"We are sisters of this Earth—members of one powerful tribe."
—Jada Pinkett Smith
"If you can feed yourself, you can free yourself."
—Dr. Grace Lee Boggs, philosopher and Detroit community organizer
"My daughter talks about what she did and learned at ECO Girls all weekend long. This is a great program!"
—ECO Girl Parent
Garden Watch
In October the Eco Girls visited Alyx's practice garden, which is shown growing below.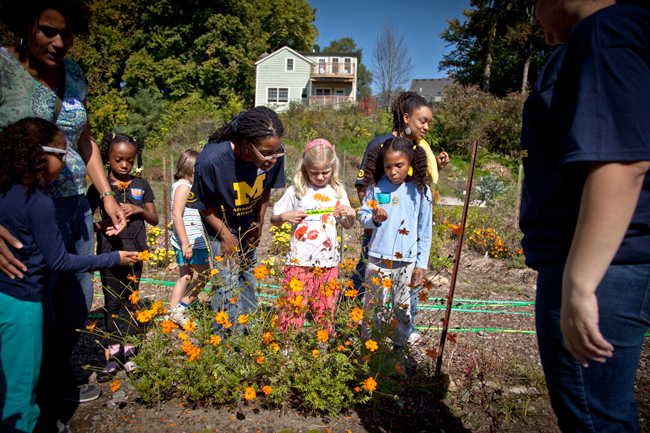 This spring the Eco Girls will plant a new garden here to supply their families and community members with fresh vegetables.
Post 2, August 7, 2011
The garden has definitely come a long way since my last post. I've been hard at work in my garden plot all summer and, while I've run into a few problems, I think I'm having some success.
When we began to dig in our plots for the first time, my fellow gardeners and I made the unfortunate discovery that the garden was located on an old parking lot. I ended up removing quite a few chunks of broken asphalt from my plot and found out I only had about 4-6 inches of usable topsoil.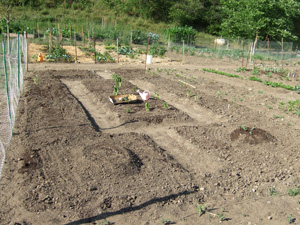 The process of planting took longer then, since I decided to bring in even more compost for my plot. Finally, though, it was time to plant and I had a few very busy weeks as I rushed to get various seeds in the ground and some seedlings transplanted. I bought tomatoes, peppers and basil, but decided part of the fun of gardening was watching plants sprout, so everything else was planted from seed.
As August settles in, I can say I've had slightly better than 50% luck with those seeds. With the exception of several kinds of lettuce, all the vegetables I've planted have come up, and most of the flowers and herbs have not. I have to say, I have no idea why not. I was holding out some hope for these reluctant seeds until a recent storm completely flooded my plot and took a couple days to drain.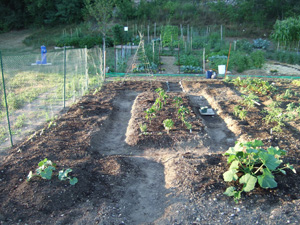 But I'm happy with how healthy the other plants seem. The butternut squash and cantaloupe are taking off and the tomatoes and peppers seem to have settled in nicely. The two kinds of flowers that did germinate, sunflowers and cosmos, are growing quickly and I'm hopeful about their progress.
In the pictures here, many of the seedlings are up, but so small you can't quite see them in the picture. My next step is seeing what I can do to boost their growth to make sure everything is ready before the frost date. I will have more updates now that things are actually growing!
Alyx
Post 1, June 8, 2011
I have never grown a garden before. I can barely keep houseplants alive. Since the Eco Girls will be starting their very own garden plot next summer, I figured this summer I should be learning everything I can with some hands-on practice. I am lucky enough to have gotten a plot in an organic community garden run by the awesome non-profit, Project Grow. My plan is to grow a variety of vegetables, herbs and flowers using only organic techniques for fertilizing as well as for weed and pest control.
I have decided that organic methods are important to me for several reasons. I think it is the healthier choice for me and my local ecosystem. I think harmful chemicals are not usually the best choice and that if everything in the garden is kept in a natural balance, most problems will resolve themselves. I expect there will be a learning curve to growing organically, but my knowledge is starting from scratch anyway, so there's nothing to relearn at least. I'm hoping the extra work will be worth it when harvest time comes around and I have some yummy, chemical-free fruits and veggies to pick and share.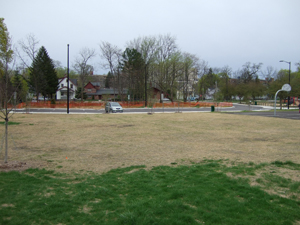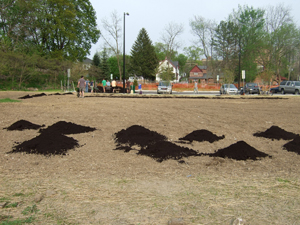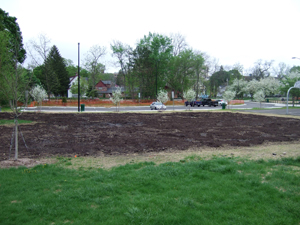 We have had an unusual amount of rain this season which has delayed my planting schedule, but on a good note, it has given me more time to read and plan. In my first pictures I'm posting here, I have the before shot, where straw was laid down to keep the grass and weeds from taking over, and I have a couple of shots of the compost being added (which is one of the most important gardening steps). In the next week, I hope to get in my first round of plants.
I will be writing regular updates and taking pictures all summer, so check back often to watch the garden grow!
Alyx