"We are sisters of this Earth—members of one powerful tribe."
—Jada Pinkett Smith
"If you can feed yourself, you can free yourself."
—Dr. Grace Lee Boggs, philosopher and Detroit community organizer
"My daughter talks about what she did and learned at ECO Girls all weekend long. This is a great program!"
—ECO Girl Parent
Support Us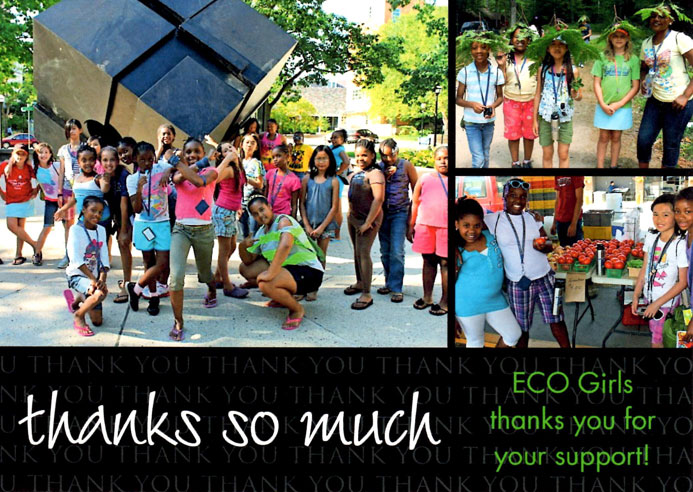 ECO Girls is a non-profit, faculty-developed, engaged learning project housed within the Department of Afroamerican and African Studies (DAAS) at the University of Michigan. During the academic school year ECO Girls hosts at least sixteen educational events and field trips for children in Washtenaw and Wayne counties; during the summer the project runs an eco-cultural camp on the U-M central campus in Ann Arbor and at the UM Biological Station near Pellston, MI. Our aim is to make our curriculum and experience-based learning available to a diverse group of girls from a range of income levels. Therefore, ECO Girls offers our school year program on a sliding scale so that children can become involved for as little as twenty-five dollars. Our summer camp is highly subsidized by a scholarship pool that allows children in need of financial support to attend. In 2012 a third of our campers came from households with incomes of less than $20,000 and received full scholarships.
ECO Girls was supported in its first year (2011-2012) by the National Center for Institutional Diversity in the School of Education at UM, the Michigan Humanities Council, Afroamerican & African Studies at UM, the Center for Educational Outreach (CEO) at UM, the American Culture Program at UM, parent contributions, and volunteer hours. Due to this generous support, ECO Girls enhanced the lives of forty girls in southeastern Michigan and fostered the intellectual development of fifteen undergraduate and graduate students at the University of Michigan.
As we close the third year of this community project, we are grateful for the support of Young Women for Change of the Michigan Women's Foundation, the American Association of University Women, the College of Literature, Science and the Arts at UM, and the patrons of Crazy Wisdom Bookstore in Ann Arbor.
If you would like to support ECO Girls in the future, please contact Tiya Miles at tiya@umich.edu.