"We are sisters of this Earth—members of one powerful tribe."
—Jada Pinkett Smith
"If you can feed yourself, you can free yourself."
—Dr. Grace Lee Boggs, philosopher and Detroit community organizer
"My daughter talks about what she did and learned at ECO Girls all weekend long. This is a great program!"
—ECO Girl Parent
UM Courses
For UM Students
University of Michigan undergraduate students may work with ECO Girls for service learning credit in the four ways described below. Students may also participate in ECO Girls as volunteers.
Course Credit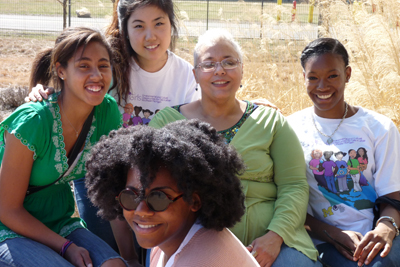 Women's Studies students and DAAS outreach coordinator, Elizabeth James, on an ECO Girls field trip to the River Rouge Plant, Dearborn, MI, winter term 2012. From left to right: Alexandria Williams, Nahbee Jong, Dy-Min Johnson, Elizabeth James, Adrienne Clabin. Not pictured: Cheyenne Rockey.
Volunteering
ECO Girls invites involvement from potential student volunteers across the campus, especially those in: Women in Science and Engineering Program, Program in the Environment, Graham Institute Undergraduate Sustainability Scholars, Afroamerican and African Studies, Women's Studies, American Culture, Residential College, Comprehensive Studies. Volunteers are particularly needed for the week-long summer camp in late June. For questions contact Tiya Miles: tiya@umich.edu, and please insert "ECO Girls Volunteering" into the subject line of your email.
To become a volunteer please fill out our application.