"We are sisters of this Earth—members of one powerful tribe."
—Jada Pinkett Smith
"If you can feed yourself, you can free yourself."
—Dr. Grace Lee Boggs, philosopher and Detroit community organizer
"My daughter talks about what she did and learned at ECO Girls all weekend long. This is a great program!"
—ECO Girl Parent
Upcoming Events
Through actions both large and small, girls, and the women they will become, have the power to care for the earth and strengthen our human communities. See what members of the ECO Girls have been doing to make a difference, and read about ways that we can all contribute toward building a positive future with and on the earth.
Michigan League, Henderson Room (3rd Floor)
911 N. University Avenue
University of Michigan Central Campus, Ann Arbor
Friday, April 21st, 2017, 11am-4pm
This Earth Day gathering, collaboratively organized by ECO Girls at the University Michigan and the BlackGirlLandProject at Michigan State University, was designed to foster sustained discussion about women's ties to the natural world, with a focus on black women's histories and literatures. The goal is to uncover together personal and culturally shared stories of women's perceptions of nature, uses of land, links to particular environments, and then to consider the application of these stories in our present political and environmental moment.
The day will include light refreshments, a buffet lunch, a book group discussion of the award-winning Trace: Memory, History, Race and the American Landscape by Lauret Savoy, professor of Environmental Studies and Geology at Mt. Holyoke College (who will make a guest virtual appearance), self-reflexive journaling, and an exploration of the intersections of black feminist thought, eco-feminist thought, and environmental justice frameworks.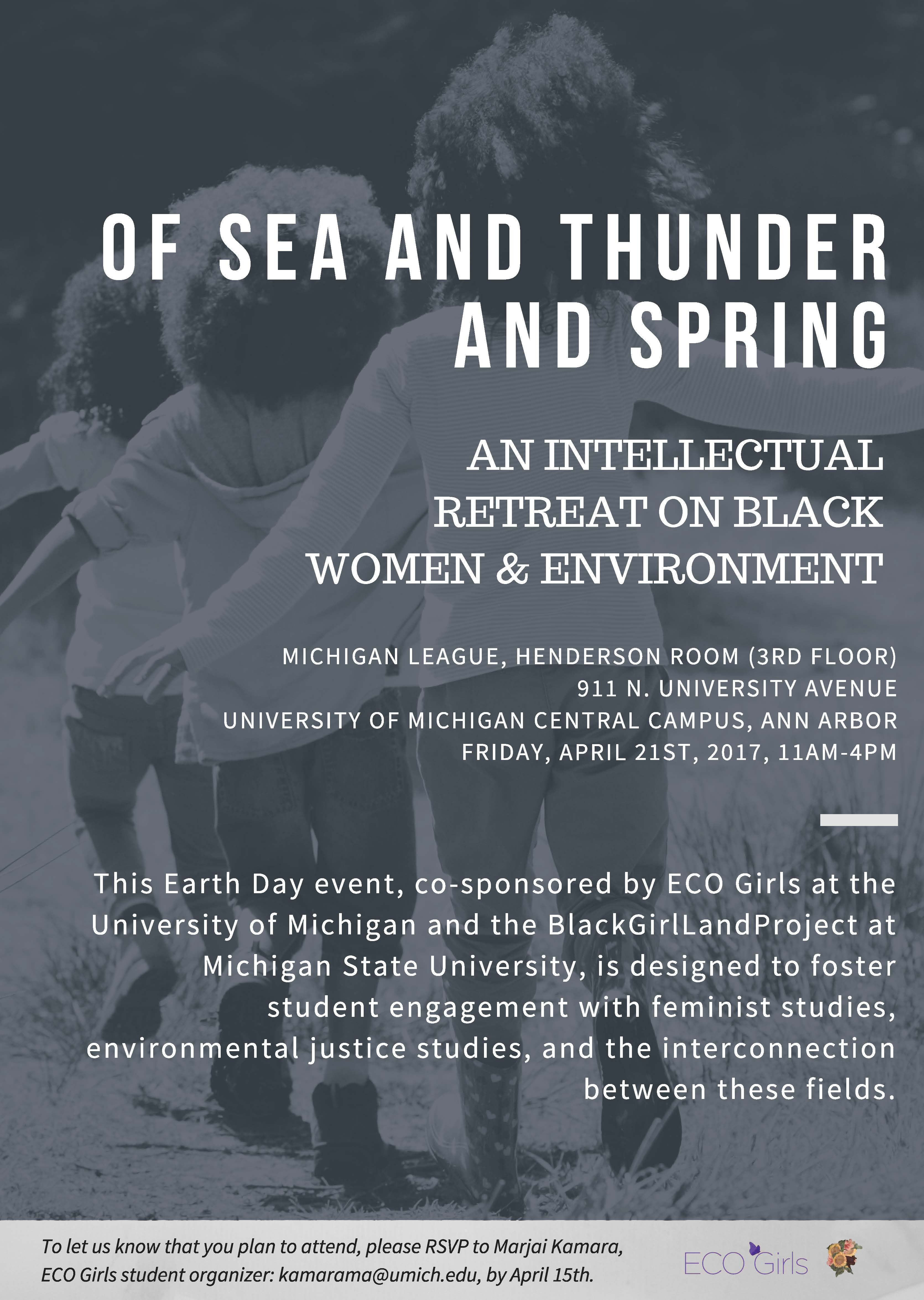 Through thoughtful engagement with one another and analysis of writings and photography by black women artists, participants will be invited to think about the following questions:
What are women's longstanding connections to land, nature, and environments?
What does it look like to reconnect with land and nature? What does this re/connection require and what does it make possible?
What are the tensions and complications involved in doing the work of re/connecting with others who have different relationships with/to land (i.e., fractured connections related to enslavement and/or indentured servitude, forced or voluntary displacement, reconnection through farming or activism)?
What are our visions of environmental responsibility, and how can we begin to realize them?
This joint ECO Girls-BlackGirlLandProject retreat is open to undergraduate and graduate students in each group, UM students, and ECO Girls participants ages 12 and up. To let us know that you plan to attend, please RSVP to Marjai Kamara, ECO Girls student organizer: kamarama@umich.edu, by April 15th.
The title of this event draws from Audre Lorde's poem, "What My Child Learns of the Sea," which illuminates growth and identity through symbols of nature.