"We are sisters of this Earth—members of one powerful tribe."
—Jada Pinkett Smith
"If you can feed yourself, you can free yourself."
—Dr. Grace Lee Boggs, philosopher and Detroit community organizer
"My daughter talks about what she did and learned at ECO Girls all weekend long. This is a great program!"
—ECO Girl Parent
Recipes
Pumpkin Recipes
by Mallory Horne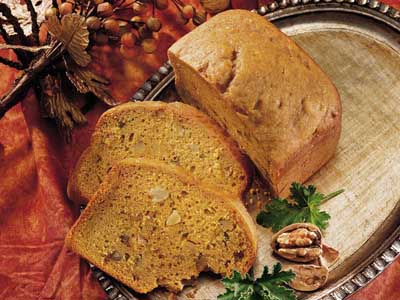 Image source: Betty Crocker
We have several delicious pumpkin recipes here for you to try this fall! The one I made was the Betty Crocker Pumpkin Spice Quick Bread in my bread machine. I used this recipe because it was one that used the most pumpkin: 1 cup compared to 1/2 and sometimes just a 1/4 cup. Also, this recipe called for nuts, and I decided to opt out; I am not a big fan of nuts in my bread. However, if you decided to include them, pecans or pumpkin seeds would be delicious.
This is a quick bread, which means it comes together quickly. The recipe uses a whole 15oz can of pumpkin. The bread was delicious, it had many wonderful spices, such as cinnamon and cloves which accent pumpkin well. Delicious served warm with some maple butter.
We pureed our own pumpkin for the bread, and it was a challenge! We had a giant pumpkin, typically you would want to use a small sugar pumpkin, however pre-canned pumpkin is just the same. Be sure not to get canned pumpkin pie! However, if you have an itch to do it all from scratch, it really is not too bad, just time consuming.
First cut your pumpkin in half and scoop out all the insides (save the seeds for roasting, if you wish). Set your oven to 400. Place the halved pumpkin face down on a rimmed baking sheet. Pumpkin contains a lot of water which will seep out as it is baking. After an hour, poke your pumpkin with a fork. It would be very soft. Carefully take it out of the oven and scoop out the flesh of the pumpkin. (Do not use the outer skin). Put into a blender or food processor, and puree. You can use some of the juices from the pumpkin if needed to help get the puree to the right consistency. You do not want it too runny. Then use in your favorite recipe! Any leftover puree can be stored in plasticware and frozen, or refrigerated for up to 2 weeks.
If you don't have a bread machine, there is also a non-bread machine option, the Betty Crocker Pumpkin Bread.
Also, check out the Better Homes and Garden 41 Yummy pumpkin recipes, which includes an range of pumpkin recipes—not only dessert, but also pumpkin mac & cheese, chocolate glazed pumpkin pie cheesecake, and pumpkin, chickpea, and red lentil stew, and many many more! Pumpkin is very nutritious, however it is often forgotten as a edible squash; it's not just for pie! It does not have a strong taste, and I felt these recipes included an variety of ingredients that would work well with pumpkin.
Fall Recipes
Here are the ECO Girls team's favorite apple recipes for fall.
Sauteed Apples
(view recipe on AllRecipes.com)
Ingredients:
¼ cup butter
4 large tart apples — peeled, cored and sliced ¼ inch thick
2 teaspoons cornstarch
½ cup cold water
½ cup brown sugar
½ teaspoon ground cinnamon
Directions:
In a large skillet or saucepan, melt butter over medium heat; add apples. Cook, stirring constantly, until apples are almost tender, about 6 to 7 minutes.
Dissolve cornstarch in water; add to skillet. Stir in brown sugar and cinnamon. Boil for 2 minutes, stirring occasionally. Remove from heat and serve warm.
Apple Pancakes
(from "Apple Cookbook" by Olwen Woodier)
Ingredients:
2 cups sifted all-purpose flour
1½ teaspoons baking powder
1 teaspoon baking soda
1 teaspoon ground cinnamon
2 cups sour cream or 1½ cups plain yogurt
¼ cup apple juice or cider
¼ cup sugar or honey
¼ cup butter, melted
2 eggs
2 medium apples (McIntosh, Golden Delicious, Empire)
vegetable oil for frying
butter, lemon juice, sugar (optional)
Directions:
Place the flour, baking powder, baking soda, and cinnamon in a large mixing bowl, blender, or food processor. Add the sour cream, apple juice, sugar, butter, and eggs. Beat or blend until smooth. The batter will be very thick. Allow the batter to rest for 30-60 minutes.
Core and grate the apples. Stir into the batter.
Heat a heavy skillet over medium-high heat and grease with approximately 1 teaspoon of vegetable oil. Drop the batter onto the hot griddle a few tablespoons at a time (for larger pancakes, measure ¼ cup batter).
When bubbles appear on top after approximately 2 mintes, turn and brown the other side. Serve with butter, lemon juice, and sugar.
Yield: 4-6 servings (16-20 pancakes)
Celebrate Black History Month: Abolitionist Women's Recipes
In celebration of Black History Month, ECO Girls designed, wrote, and published a booklet of recipes by abolitionist women.
Food for the Fight features seven prominent 19th century women abolitionists and their recipes: Mary Brooks, Elizabeth Chandler, Lydia Maria Child, Angelina Grimke, Laura Haviland, Lucretia Mott, and Harriet Tubman. In addition to traveling and giving lectures, these women raised money for organizations committed to the abolition of slavery by hosting bake sales at antislavery fairs and abolitionist teas within their homes. Their recipes exemplify how abolitionist women used ingredients that were locally produced (rather than made by slave labor) and readily on hand (highlighting the importance of frugality and conscious consumerism). These recipes are a reminder that women have always worked as leaders for their own empowerment and the empowerment of others, using the tools of mindful consumption, repurposing, and a commitment to making and buying food products that heal, unite, and nourish. We hope to nurture these same values in our Eco Girls, so that they might, as the women abolitionists before them, be of service to their family and communities in our own times.
You can now download the full recipe book in PDF form. Please note: This is a very large PDF, approximately 100 MB. It will take some time to download. Click here to download full PDF.
Each week of Black History Month, we unveiled a high-resolution PDF of one of the booklet spreads:
Elizabeth Chandler. You can download the PDF by clicking on the thumbnail image below. (Note: PDF is approximately 10MB.)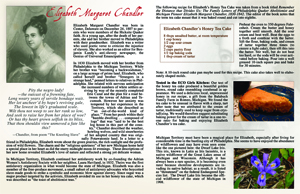 Laura Haviland. You can download the PDF by clicking on the thumbnail image below. (Note: PDF is approximately 10MB.)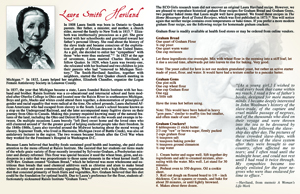 Harriet Tubman. You can download the PDF by clicking on the thumbnail image below. (Note: PDF is approximately 10MB.)